How to Improve Your Immune System During the Cold and Flu Season
How to Improve Your Immune System During the Cold and Flu Season
Written By Mauger Medical on January 18, 2021
---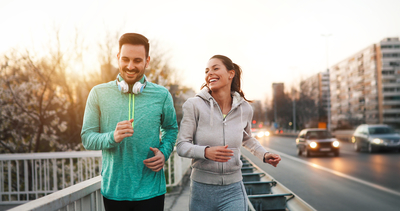 Since March, everyone has been on high-alert due to COVID-19 and immune health.
Now, we're entering the cold and flu season. Many doctors worry about their patient's health because of the combined threat of the flu and the coronavirus, particularly on those with a poor immune system.
Thankfully, you can take steps to boost your immune health, so you have a fighting chance of avoiding getting sick this winter.
Tips for Boosting Your Immune System Before the Cold and Flu Season
During this time of the year, it's easy to get sick because you're often indoors and constantly breathing in recirculated air. It's the perfect environment for germs to flourish.
You can take steps to lower your risk of catching something and build up your immune system.
Wash Hands Often
Washing your hands thoroughly (for about 15-20 seconds) will remove/kill germs. Use hand sanitizer if you don't have soap.
Get Plenty of Fresh Air and Sunshine
Breathing in fresh air will add clean air to your lungs and supply your immune system with the oxygen your blood needs to fight infections.
Additionally, sunshine helps your body make vitamin D, an essential nutrient for reducing inflammation and controlling infections.
Reduce Stress
Chronic stress keeps your body's inflammation levels high, lowering your immune health. Incorporate meditation practices, mindfulness exercises, or talking to a therapist regularly.
Get Plenty of Sleep
When you get more sleep, you boost your immune health, reducing your risk of getting ill. Also, if you do get sick, sleep can help you fight the infection faster.
Your Corpus Christi Chiropractor Can Help, Too
Dr. Michael A. Mauger is not just a Corpus Christi chiropractor, but he's also a registered nurse. He's gained a lot of knowledge over his 40+ years of diverse experience and is ready to put his know-how to work for you.
When you visit Mauger Medical for an appointment, you won't just receive spinal adjustments (a procedure that can help boost your immune system). You'll also receive information and recommendations on lifestyle and dietary adjustments you can make for better health.
Dr. Mauger wants to help you avoid getting sick this winter. If you'd like his assistance, schedule your appointment today.
Would you like to discuss steps you can take to build your immune health with Dr. Mauger? Call us at 361-993-3917 to schedule a consultation.

Posted In: Chiropractic Wellness